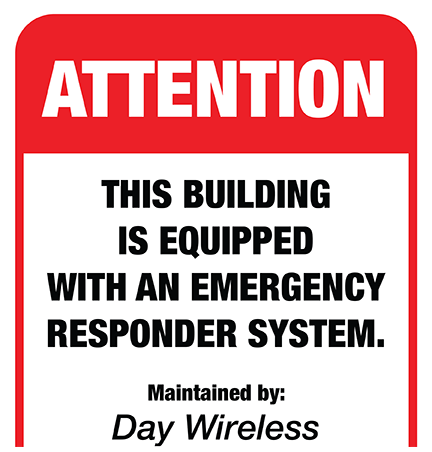 Safety first
Public safety must be the priority in any situation, at work, at home, or at play. First responders (law enforcement, firefighters, paramedics and others) require unwavering reliability from the two-way radios they use for mission-critical communication in a crisis.
Day Wireless Systems helps keep them safe so they can keep us safe.
Reliable communication when it matters most.
Radio frequency (both radio and cellular) signals are greatly reduced when passed through dense building materials such as concrete and metal. This problem was evident during 9/11, when first responders were not able to effectively communicate inside the World Trade Center towers. Since 2009, the International Code Council and the National Fire Protection Association have added first responder radio coverage requirements to their book of fire codes.
Communities adopt the codebooks set forth by the International Code Council (International Fire Code) and the National Fire Protection Association (NFPA) periodically, usually, every few years.
Today's fire codes mandate buildings support public safety radio coverage prior to official Certificate of Occupancy. The two most common types of first responder radio coverage are:
Public Safety Distributed Antenna System (PS DAS).
Emergency Radio Responder System (ERRS).
Although local agencies can enhance their fire code, key elements require:
Minimal signal level of -95 dBm in 90% of the structure
Back-up power for 24 hours of operation
Applies to structures of 50,000 sg. ft. or those with belowground floors
Coverage test using a 20 grid or 40 grid process
Annual certification of equipment with grid coverage test and one hour battery test
Must be tested by an FCC licensed or factory certified technician
Here are links to state fire codes, however, most local jurisdictions will enforce amended versions or use different codebooks. Please consult with a Day Wireless DAS specialist in order to find the local Emergency Responder Radio code requirements for your project.
Oregon
https://www.oregon.gov/osp/programs/sfm/Pages/Fire_Codes.aspx
Washington
https://app.leg.wa.gov/wac/default.aspx?cite=51-54A
California
https://www.dgs.ca.gov/BSC/Codes
Idaho
https://doi.idaho.gov/sfm/Prevention/Statutes
Wyoming
http://wsfm.wyo.gov/plan-review
Our expert technicians provide the installation, maintenance and recertification necessary to keep mission-critical communications up and running when they're needed most.