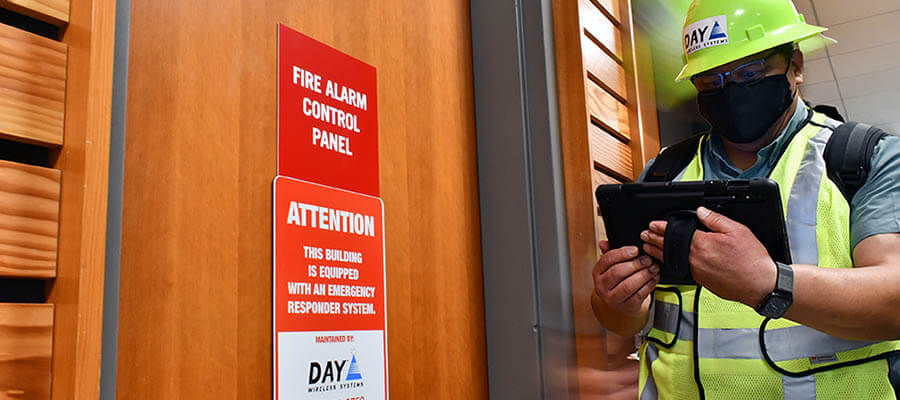 What is Public Safety DAS?
Public Safety Distributed Antenna Systems (DAS) provide in-building emergency radio coverage to first responders.
A public safety DAS system often has these critical components:
The Donor Antenna receives the signal from public safety radio system
A BDA (Bi-directional Amplifier) amplifies those signals, and then evenly distributes the amplified signals via the Distributed Antenna System (DAS).
The DAS is the in-building network of coax cables, splitters, antennas

In larger facilities, DAS will be designed using fiber to avoid signal loss over long distances

The Battery Backup System ensures that the system operates in the event of power failure
Why is Public Safety DAS becoming mandatory in fire code enforcement?
There's good reason for this code driven requirements. Radio signal is greatly reduced when passed through dense building material such as concrete or low-e glass. During 9/11, firefighters and police couldn't communicate properly inside the World Trade Center, which led to many lives being lost. This triggered the International Code Council (ICC) and the National Fire Protection Association (NFPA) to add first responder radio coverage requirements to their book of fire codes, ensuring their radios work wherever they go. Emergency Responder Communication Enhanced Systems requirements have been in both the ICC and NFPA codebooks since 2009, and many municipalities are already enforcing ERRC requirements.
Although local municipalities may can enhance their fire code, common elements may include:
Coverage test using a 20 grid or 40 grid process
Minimal signal level of -95 dBm in 95% of the structure (based on grids)
Back-up power of 24 or 48 hours of operation
Annual certification of equipment with grid coverage test and one hour battery test
Must be tested by an FCC licensed or factory certified technician
It is the responsibility of building owner or operator to have their building tested by a certified Public Safety DAS professional. Having someone who understands local codes is imperative since each different states, jurisdictions, and municipalities vary in their required ordinances and statutes. For instance, some municipalities carry stricter fire survivability standards or battery backup requirements than others.
Who Benefits from Public Safety DAS
First Responders
First responders are frequently called to respond to emergencies and can include fire, police, and EMS personnel. A public safety specifically designed DAS system eliminates 'dead zones' to enable first responders to have quick, clear radio communication within any given space. These "dead zones" areas that commonly seen in:
Large buildings
Elevators
Basements
Garages
Stairwells
Tunnels
Tenants, Employees, and Customers
Public Safety designed DAS improves communication between those inside the building and first responders, enabling individuals to find safety more quickly. Emergency situations can be chaotic and having clear access to communicating with first responders can reduce chances of injury or loss.
The Public
The faster first responders can take care of one emergency the faster they are ready for the next. Improving communications ensures that first responders can perform and complete their missions efficiently and effectively.
Safety First
Day Wireless has vast experience with installing public safety DAS in many different structures to meet local jurisdiction standards such as:
Office buildings
High-rises
Parking structures
Storage facilities
Hotels and hospitality venues
Malls and retail centers
Education campuses
Stadiums and arenas
Hospitals
Airports, train stations, and other transit centers
Our Process
Work with the building owner or contractor to provide a DAS estimate
Create a final design based on IBwave software for signal propagation and hardware requirements
Installation – we work with the contractor (or handle the full installation if needed)
Test – performance verification will be tested by our FCC certified technicians after install
Turn Up System –Coordinate with the radio system owner and verify with the Authority Having Jurisdiction (AHJ) that the system is operating as it should.
Acceptance – Once the new system is approved by the AHJ, the building will be ready to receive its temporary certificate of occupancy.
Maintain – Annual or bi-annual inspection of the system is required by the AHJ to maintain effectiveness.
State Fire Codes
Here are links to state fire codes, however, most local jurisdictions will enforce amended versions or use different codebooks. Our DAS specialists stay abreast on all of these changes. We have relationships with many of the AHJ's, and understand specifically how they are interpreting code compliance. Contact us to find the local Emergency Responder Radio code requirements for your project and area.
Oregon
https://www.oregon.gov/osp/programs/sfm/Pages/Fire_Codes.aspx
Washington
https://app.leg.wa.gov/wac/default.aspx?cite=51-54A
California
https://www.dgs.ca.gov/BSC/Codes
Idaho
https://codes.iccsafe.org/codes/idaho
Wyoming
https://codes.iccsafe.org/codes/wyoming
Utah
https://codes.iccsafe.org/codes/utah
Our expert technicians provide the installation, maintenance and recertification necessary to keep mission-critical communications up and running when they're needed most.