PCTEL enables wireless connectivity. PCTEL stands for excellence and innovation in antenna systems, Industrial IoT devices and test and measurement solutions that meet the unique needs of our customers.
Public Safety Network and Testing Solutions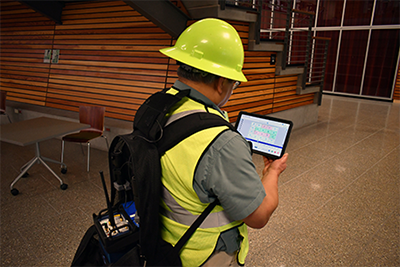 With PCTEL's automated grid-based testing and reporting tool, you can ensure public safety and private radio coverage while reducing or even eliminating time-consuming manual processes. Meet and enforce local building codes for Emergency Radio Responder Coverage (ERRC). Create grids and set up tests. Measure and grade by threshold. And auto-generate real time results and submittable reports with one tap.
Kits include our tablet-based SeeHawk® Touch software, lightweight IBflex® scanning receiver, and accessories for in-building or outdoor testing.
Key Features
Simultaneous testing – automatically test multiple public safety, cellular, WiFi and private radio frequencies with one tap
Automated reports – pass-fail grading to comply with NFPA, IFC, and local codes
Commissioning – automatically incorporate equipment room tests into reports
Signal quality – fast, accurate, repeatable measurements for P25, DMR, TETRA, LTE/FirstNet and UMTS
Cloud reporting and automation – bring your test data and workflows to the cloud with SeeHawk™ Central
Please Contact Us for more information.