JMA Wireless is the leading global innovator in mobile wireless connectivity solutions that assure infrastructure reliability, streamline service operations, and maximize wireless performance.
E-DAS - Enterprise Distributed Antenna System
A Cost Effective Mobile Communications Alternative for the Enterprise
Many enterprises are still in need of robust cellular coverage and capacity for their employees.  Small cells have been used to try to ensure mobile communications, but they come with a set of challenges such as complicated installs, special wiring needs, the inability to serve multiple carriers on one network, etc.  JMA Wireless has a cost efficient alternative comparable to small cells known as E-DAS (enterprise distributed antenna system).  E-DAS (enterprise distributed antenna system) is a DAS deployed in conjunction with an e-femtocell (enterprise femtocell) or microcell.
No Dedicated Backhaul Required
With the E-DAS solution, an enterprise femtocell (e-femto) or microcell interconnects with the IP network, which is used as the RF source for the DAS, resulting in a much more flexible and cost-effective architecture.  Multiple bands and multiple carriers can be supported on one network.  Capacity and coverage can be tailored to meet wireless communications needs.  For example, an office building may require additional capacity due to the number of employees working in it while the accompanying parking garage may need less.  With the E-DAS platform coverage is enabled by providing low power RF input or POI (point of interconnection) in the Master Unit, which feeds out of the antenna ports of the e-femto/microcell and into the DAS.  Since they are fully integrated into the E-DAS no dedicated backhaul is needed.  Plus, the number of nodes is minimized.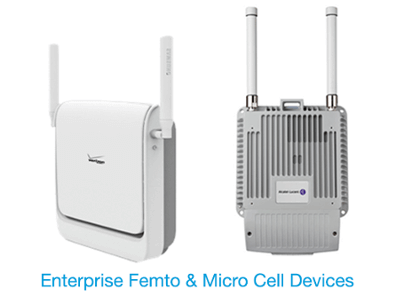 Flexible Antenna Options
The flexible E-DAS platform supports different types of antennas based on the RF needs of the environment.  Both SISO (single input, single output) and MIMO (multiple input, multiple output) implementations can be enabled.  In addition, it easily can support a variety of technologies including LTE, VoLTE as well as future ones such as 5G. 
The Cost-Effective Wireless Solution
The E-DAS platform is very competitively priced in comparison to other offerings in the market today.  The cost per square foot runs around $0.40 for a smaller facility (approximately 50K square feet) and gradually decreases as the square footage increases (approximately $0.30 for a larger facility - 300,000 square feet.  Furthermore, the approximate costs listed above include all cabling required (e.g. coax, fiber, etc.).  When you add a second mobile operator to the wireless system the cost widens even further in favor of utilizing DAS technology for enterprises.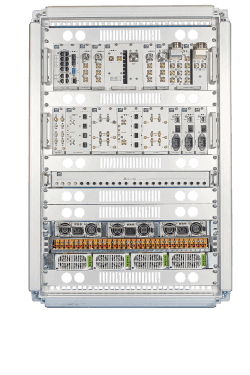 The Teko Platform - The Industry's Most Advanced Distributed Antenna System
The Teko Platform is a versatile, modular, multi-technology platform designed to offer flexible and reliable wireless coverage and capacity for both indoor and outdoor environments. Teko's design delivers the maximum end-user performance, supporting LTE-Advanced capabilities to enable multi-path performance with the flexibility to adapt coverage and capacity in any venue on an event-by-event basis.
Made up of two main elements, the Master Unit is a rack-based platform delivering modularity that allows configurations for different needs and a future-proof design to ensure you can adapt your venue to future technologies. Remote Units (RUs) are connected to the Master Unit via a single mode optical fiber to distribute multiple frequency bands and multiple Carriers/MNOs to each Remote Unit, or to multiple RUs to configure multipath (e.g. MIMO) configurations.
Remote Units are self-contained and provide signal distribution to a range of both indoor and outdoor antennas and are available from Low Power to High Power designs.
The Master Unit is configured to provide both the RF interface (off-air and/or via coaxial cable) towards the signal source (BTS, NodeB, Donor) and the optical interface towards Remote Units. It also hosts the Supervision Module for the management of the entire System utilizing secure browser technology that enables administration from any location.
The Master Unit can be configured utilizing Donor Front End, Active Point of Interface or a DAS Trays to provide flexible options connect to any combination of Carrier interfaces.  Remote Units utilize a single antenna port to eliminate external combiners and reduce loss. 
The Teko Platform also includes the optional Multiband Spectrum Analyzer (MSA) to allow recordable and remote monitoring of venue performance to enable easy optimization. The MSA is designed for non-intrusive monitoring of up to five bands on a single port.